Researcher Spotlight
Researcher Spotlight: Owen A. O'Connor, MD, PhD
Columbia University Medical Center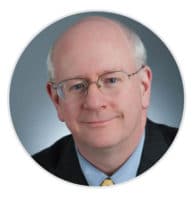 A long-time member of the Lymphoma Research Foundation's Scientific Advisory Board , and a founding Executive Committee member of LRF's Mantle Cell Lymphoma Consortium, Dr. Owen O'Connor has been named a recipient of the American Cancer Society Research Professorship, only the third time that this prestigious award has been given to a lymphoma researcher.   The Professorship was awarded in recognition of his contributions to the understanding of peripheral T-cell lymphoma (PTCL), including his recent work to establish an international consortium for T-cell lymphoma researchers.
Dr. O'Connor is a Professor of Medicine and Experimental Therapeutics, the Director of the Center for Lymphoid Malignancies, and Co-Program Director of the Lymphoid Development and Malignancy Program in the Herbert Irving Comprehensive Cancer Center at Columbia University Medical Center. Recently, he discussed his current research and future research goals in T-cell lymphoma with the Lymphoma Research Foundation.
"Unfortunately, I don't think we've made gigantic strides in changing the natural history of T-cell lymphoma all that much since I first wandered into this disease a decade or two ago," Dr. O'Connor says.  "We really have a very poor understanding of the underlying pathogenesis of T-cell lymphomas, and these lymphomas in their own right are incredibly heterogeneous and rare, with nearly 30 subtypes currently recognized. We're now beginning to glean some important insights and I think we're going to have to look to the future to see how we use that information to improve outcomes." He adds that a shortage of effective drugs for T-cell has also inhibited progress for patients, although he believes this, too, is starting to change – "Maybe ten years ago, we didn't have any new drugs that were really compelling in their single agent activity, but here in 2018 I can generate a laundry list of agents that have some reasonable data suggesting they're actually very active."
Another reason Dr. O'Connor cites for T-cell lymphoma lacking the leaps forward made in other lymphoma subtypes is a lack of collaboration within the scientific community, something he seeks to change with the Global T-cell Lymphoma Consortium. "Because we live in a relative time of riches in terms of new opportunities for the disease, there is a penchant for investigators interested in T-cell lymphoma to become fragmented and focus on lots of little things, where it then takes a long time to approve any clinical study to finally answer one question and move the field forward.  The Global T-cell Lymphoma Consortium is dedicated to bringing together investigators with expertise in the disease from Europe, North American, and Asia with the notion that we're interested in trying to identify the best and most effective novel treatment regimens for the disease. Members will get an encrypted laptop that will allow access into Columbia database portals where we can evaluate real-time clinical trial data. And it will bring together investigators from some of the premier institutions around the world to share their ideas on what treatment combinations or next-generation clinical trials warrant the scientific community's interest and priority."
He adds, "The hope, of course, is that the rate-limiting step in advancing the care of patients with this disease is accrual to clinical trials.  Unless we're able to work in a coordinated, harmonized way internationally so we can accrue these trials more expeditiously, we're only going to delay the time to answer these important questions."
Dr. O'Connor notes that his own PTCL research is beginning to yield promising results through the development of immunoepigenetic platforms — combinations of novel therapies that target the underlying DNA, or epigenetics, of T-cell lymphoma, such as histone deacetylase (HDAC) inhibitors and immunotherapies such as checkpoint inhibitors, monoclonal antibodies (mAbs), and antibody-drug conjugates (ADC).  "Maybe 10-13 years ago, we created a translational research mission focused on T-cell lymphoma with a heavy reliance on preclinical research and trying to identify novel drug combinations that we could move to patients that might provide an incremental benefit over conventional therapy or over the single-agent novel drug that's been approved," he says.  "We've spent years looking at these combinations and have discovered that in fact various epigenetic combinations are potently synergistic [the combination of therapies increases the effects of each individual therapy], predominantly in T-cell lymphoma and not B-cell lymphoma."  Noting a 2017 publication in Blood as well as several forthcoming publications, Dr. O'Connor adds "We are beginning to systematically integrate immune checkpoint inhibitors, monoclonal antibodies, or antibody-drug conjugates to begin to build regimens that look like rituximab + chemo, but would act more like immunotherapy + chemo or immunoepigenetic platforms for patients with both relapsed T-cell lymphoma and as upfront therapy.  We now have two clinical trials approved that will explore integrating immunologic therapies in a rational way predicated on the biological and immunologic effects that we see of these doublets [pairs of therapies] in the preclinical setting."
As a researcher and clinician who has long been involved with the Lymphoma Research Foundation, both through membership in the Scientific Advisory Board and Mantle Cell Lymphoma (MCL) Consortium, as well as faculty at patient education events and as the recipient of an MCL research grant in 2004, Dr. O'Connor says the Foundation "has been instrumental in two or three different ways. The first of course is that the Lymphoma Research Foundation, through its membership and Scientific Advisory Board, creates a robust and august network of clinicians and scientists who share a common interest in trying to improve the care of patients with lymphoma.  What the Foundation is able to do is get those people together, provide sound resources and administrative means to get people together, put them in a room where they can actually sit down and think and use their experience to make valuable contributions to the disease. "
"[The second is] the ability to fund the kind of research which might not be 'mainstream' and may not be the kind of research that the public necessarily recognizes as the highest priority, which is critical to help get the ball rolling so that you can begin to study these diseases with the same sophistication that you might use in study more common malignant disease.  And these two things then are tightly tied together: the ability to receive resources and support to study the disease, coupled with this researcher network, now affords you a highly efficient tool where you can much more efficiently accrue clinical studies with much more meaningful scientific results."
"And of course, the third major area is as a resource for patients, who, when they have these rare diseases, sometimes get lost in the shuffle, and organizations like the Lymphoma Research Foundation have made a job out of providing some incredibly valuable educational material.  We hand those to essentially every patient at Columbia that gets diagnosed with lymphoma and it helps to give patients an incredibly detailed orientation on the disease, the expectations, and I think most importantly, the kinds of questions they need to ask their treating physicians in order to gain better insights into the disease."
To learn more about T-cell lymphoma, visit the T-cell Lymphoma Learning Center.